A Visual Tour of Our Custom Suits
Hand Basted Canvas.
Lightweight horse hair/linen blend canvas is basted (light tension) inside our suits. This gives our jackets their drape and structure. Many suitmakers choose to glue their interlinings to save time, but these will eventually delaminate with wear and dry cleaning. Our process assures that the canvas will stay in place indefinitely. The basting technique gives a soft drape and range of movement without the canvas pulling or puckering the fabric.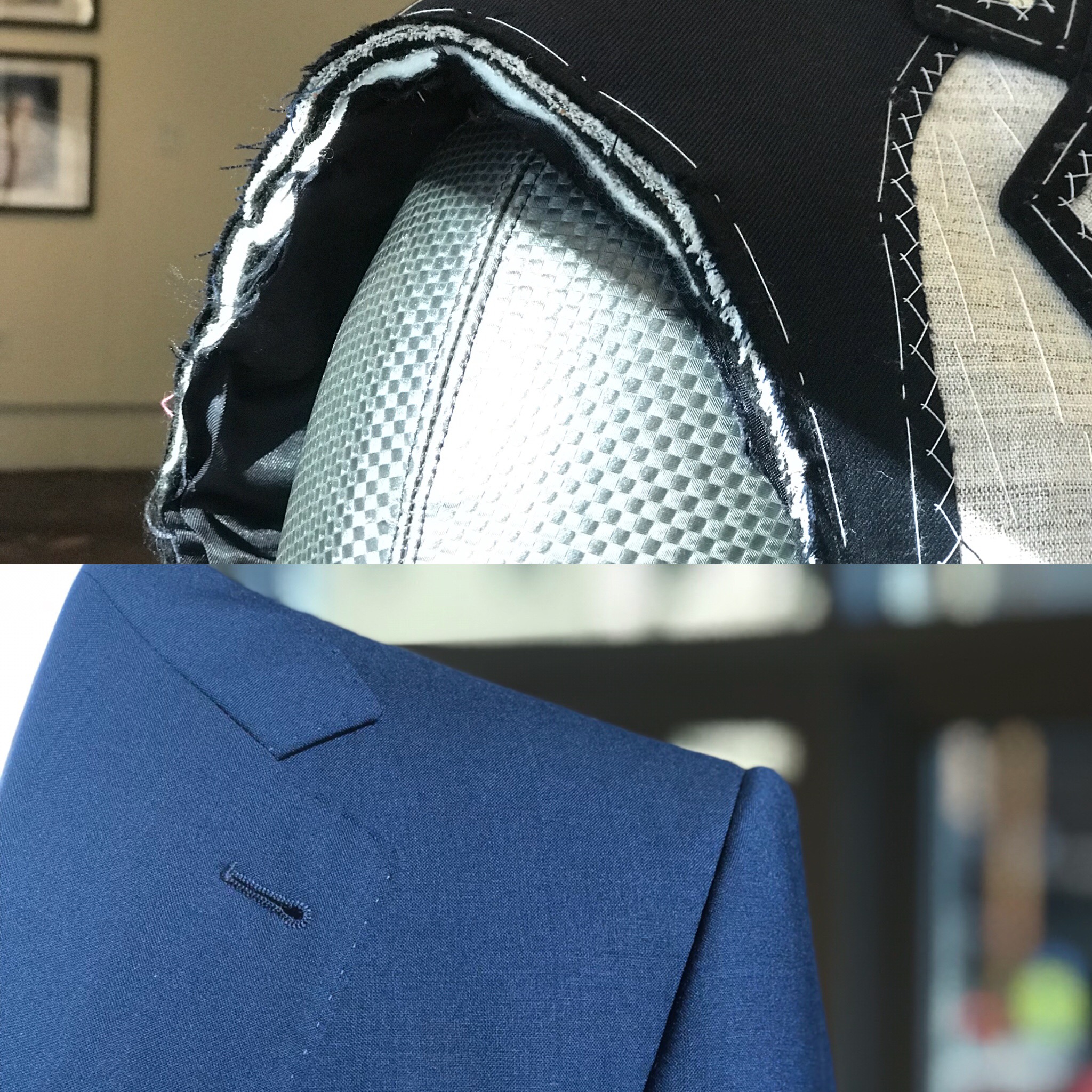 Hand Padded and Molded Shoulders.
Our shoulders are constructed by hand, from scratch, using thin layers of stacked cotton, felt, and canvas. The shape is based on each client's shoulder angle, slope, and musculature. Many suitmakers shortcut this step by using pre-made and heavy padded shoulders. You will find that our shoulders have very little padding. The end result is a jacket with clean, crisp lines and a fit that is unmistakably custom.
Hand Stitching.
Hand stitching is all about feel and instinct. Every fabric has a unique "hand" – a certain amount of body, texture, stretch, etc. Hand stitching ensures that each and every stitch is made with just the right amount of tension to create clean and strong seams. Machines can't adjust tension from stitch to stitch, resulting in puckering or in seams that are too tightly sewn and that actually weaken the integrity of the fabric. Available with visible English pick or invisible French seams, our hand stitching showcases the best of our tailoring.
Floating pleated Lining.
Our linings are all hand-basted and pleated. The light tension of the stitches and pleating allows the lining to flex and move as if independent to the outer shell of the jacket. This extra step is done to ensure that our jackets have maximum range of movement and comfort without sacrificing the lines of the suit.
Pattern Matching.
Matching patterns at seams and pockets is one of the truest tells of a well-made custom suit. Other suitmakers that favor machines and technology to build their suits struggle with this, as pattern matching requires a trained tailor's eyes and hands for each and every individual fabric. While it takes more yards of material and sewing time, this is a step that we refuse to shortcut, as it is one of the most visible hall marks of great suit making.
Buttons
Nothing ruins a great suit like cheap, poorly-sewn, and fake buttons. Our suits feature a selection of the best buttons, sourced from around the globe. We hand-match each button for color depth and pattern, hand-attach using a button backer and reinforced stem, and always include working button holes (surgeon cuffs).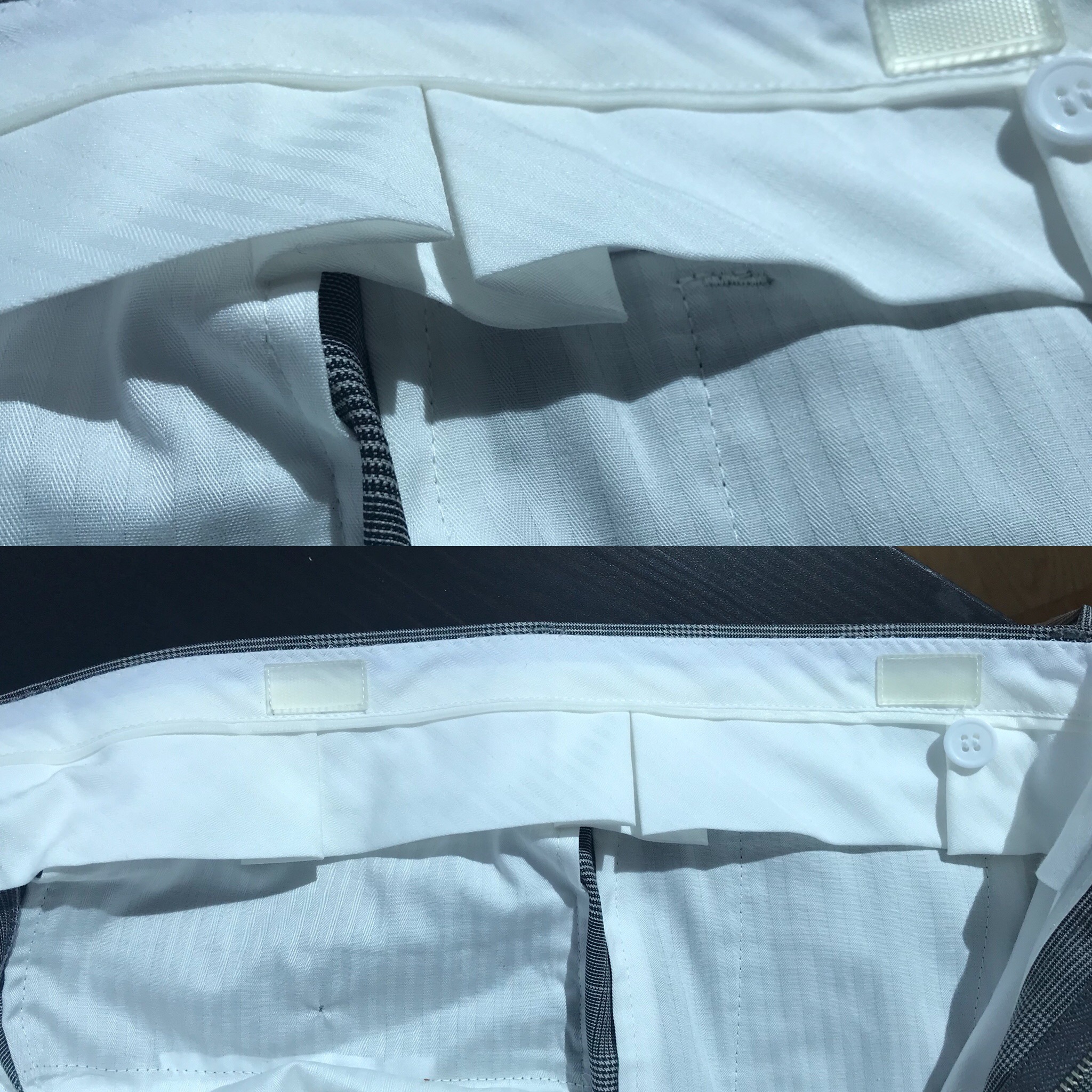 Pleated waistbands are a time-consuming extra step in old school tailoring that are still the most effective way to help keep dress shirts tucked in. During wear, as you move, bend, sit, and so on, the pleats flex and open to catch the shirt and keep it from coming undone. As an added failsafe, we also include rubber grips in the waist band.
Details. Details. Details.
A great bespoke suit is all about the tiny details which, together, create an end product greater than the sum of its parts. Reinforced tacks at stress points, heel guards at the hem, reinforced interior pockets, biased cut vents, and so on; there are far too many tiny details to list here. We focus on these details because we strive to create a standard of engineered performance without sacrificing artistic integrity in each and every one of our suits. We invite you to come in and see our tailoring in person so we can walk you through what makes us the best value in custom suiting, bar none.